As an instructor, Mr dermatologist Dr. Calokassidis participated in the company's beauticians training session ABACOSM Ltd.
THE ABACOSM is a biotechnological company producing and promoting anti-aging products based in Athens.. These products aim to restore the health of the skin free from wrinkles, hyperpigmentation , acne, acne scars, melasma etc. The products are based on antioxidant agents such as vitamins and growth factors.
The conference took place in Grand Hotel on Sunday 23/11 from 9:00-18:00 and had the purpose of properly training a group of beauticians who are going to use the specialized products of the company.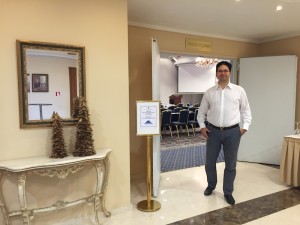 His presentation Dr. Kalokaside it concerned some of the applications of medical cosmetology (cosmetology) that are widely used in Greece and abroad. Within a short period of time, the experienced dermatologist was able to impart his knowledge to the audience and answer questions, thus helping those present to gain familiarity with the innovative applications.
This is not the first time that Dr. Kalokasidis participates in such a conference. His collaboration with Abacosm has given him many times the opportunity to transfer his experience and train young scientists in the field of cosmetology. On this path he wishes to move in the future as well, as gaining knowledge is only the key, but when you share it, that's when the lock will open.