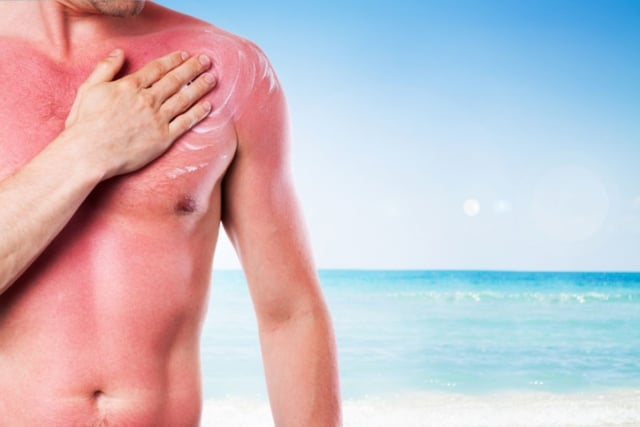 I put on sunscreen and yet I get burned… Why;
posted by:

Dr.. Kalokasidis Dermatologist Thessaloniki
0 comments
Sunscreen protects the skin from premature aging (photoaging) but also from skin cancer - both from epithelium and from extremely dangerous melanoma.
However, no sunscreen is effective if it is not applied properly.
Here's what we need to take care of so that our sunscreen provides the most coverage:
THE protection index of sunscreen (SPF) should not be less than 30. The sunscreens with index 30 protect from 97% of UVB , while with a pointer 50 protect from 98% of UVB. There are many moisturizers that contain low sun protection (eg SPF 15, SPF20) but these are only suitable for countries with low sunshine or for seasons when the sunshine is low and the sun is less "aggressive", that is, from autumn to the first days of spring.
The sunscreen should be waterproof (water resistant). That means it stays effective for 40 minutes in the water or on wet skin. Then a new application is needed. Products that remain effective even after are referred to as very waterresistant 80 minutes of their stay on wet skin. However, we have to watch out for misleading ads, because there is no completely waterproof sunscreen (Key active ingredients for sunblock success are titanium oxide and zinc oxide). For this reason it is necessary to reapply sunscreen immediately after swimming και το σκούπισμα μας με την πετσέτα ή αν έχουμε ιδρώσει πολύ (αθλητική δραστηριότητα). Αν το δέρμα μας παραμένει στεγνό θα πρέπει να επαναλαμβάνουμε την εφαρμογή του αντηλιακού κάθε δύο ώρες περίπου.
The sunscreen should be ευρέος φάσματος δηλαδή να προστατεύει και από τους δύο τύπους υπεριώδους ακτινοβολίας:
Την UVA που σχετίζεται με την πρόωρη φωτογήρανση του δέρματος και

Την UVB που σχετίζεται με τα ηλιακά εγκαύματα

.
Η προστασία από τους δύο τύπους της υπεριώδους ακτινοβολίας σημαίνει προστασία από τον καρκίνο του δέρματος , την πρόωρη γήρανση του δέρματος και από τα ηλιακά εγκαύματα.
Επιλέγουμε αντιηλιακό ειδικό για τον τύπο του δέρματός us. For example, υπάρχουν ειδικά αντηλιακά για λιπαρά δέρματα με τάση ακμής. Αυτά είναι πιο λεπτόρρευστα (oilfree) και δεν «μπουκώνουν» το δέρμα. Έτσι ο ασθενής με ακμή προστατεύεται από τον ήλιο χωρίς να επιδεινώνει το πρόβλημα.
Επιλέγουμε ειδικά αντιηλιακά με φυσικά φίλτρα (οξείδιο του ψευδαργύρου και διοξείδιο του τιτανίου) για τα βρέφη και τα πολύ μικρά παιδιά καθώς και για τις εγκυμονούσες. Αυτά παρέχουν τη μέγιστη αντιηλιακή προστασία. Παλαιότερα, διέθεταν λίγο μεγαλύτερη δυσκολία στην εφαρμογή τους, αλλά σήμερα η υφή των τελευταίας γενιάς αντιηλιακών είναι σαφώς βελτιωμένη. Ακόμα και με την χρήση του ειδικού αντιηλιακού είναι εξαιρετικά σημαντικό να κρατάμε τα παιδιά στη σκιά και να χρησιμοποιούμε κατάλληλη
ενδυμασία (ακόμα και μετά την εφαρμογή αντιηλιακού με δείκτη) όπως μακρυμάνικα πουκάμισα, μακριές βερμούδες και πλατύγυρα καπέλα.
Σε ευαίσθητα δέρματα με τάση αλλεργίας είναι επίσης καλό να χρησιμοποιούμε αντηλιακά με φυσικά φίλτρα γιατί αυτά δεν ερεθίζουν καθόλου το δέρμα. Υπάρχουν και σειρές με χημικά φίλτρα που όμως είναι κατάλληλα για «ευαίσθητα» δέρματα. Αυτά δεν περιέχουν αρώματα, χρώματα, έλαια, PABA, ή άλλα χημικά συστατικά τα οποία μπορεί να ερεθίσουν το δέρμα
Για να απορροφηθεί από το δέρμα ένα αντηλιακό απαιτούνται περίπου 15 minutes, οπότε καλό θα είναι να βάζουμε το αντηλιακό στο σχετικό χρόνο, πριν βγούμε από το σπίτι.
Για την καλύτερη προστασία μας, χρησιμοποιούμε ικανοποιητική ποσότητα αντηλιακού και το απλώνουμε γενναιόδωρα ώστε να καλύψουμε κάθε εκτεθειμένη περιοχή του σώματος. Απαιτείται επίσης ένα απαλό μασάζ ώστε να απορροφηθεί. Δεν θα πρέπει να ξεχνάμε το λαιμό, τα αυτιά, το πάνω μέρος του πέλματος και το πάνω μέρος της παλάμης. Για να προστατεύσουμε τα χείλη, επιλέγουμε ένα αντηλιακό προϊόν σε μορφή stick με δείκτη προστασίας τουλάχιστον 15 SPF. Πολλές φορές παρατηρούμε καρκινώματα στην άνω επιφάνεια της μύτης ή των αυτιών, περιοχές όπου σπανίως βάζουμε αντηλιακό. also, οι άντρες που έχουν απολέσει σημαντική ποσότητα μαλλιών πρέπει να εφαρμόζουν αντηλιακό και στο εκτεθειμένο πλέον δέρμα του τριχωτού της κεφαλής. Ιδανικά να φορούν και καπέλο για ολοκληρωμένη προστασία.
Κάθε χρόνο, είναι απολύτως αναγκαίο να ανανεώνουμε τα αντηλιακά μας, as, το αντηλιακό που έχει λήξει δεν παρέχει επαρκή προστασία.
Το δέρμα μας εκτίθεται στη βλαβερή υπεριώδη ακτινοβολία κάθε φορά που βγαίνουμε από το σπίτι, ακόμη κι αν έχει συννεφιά ή καθόμαστε στη σκιά. So, πρέπει να χρησιμοποιούμε το αντηλιακό σε καθημερινή βάση, κάθε εποχή του χρόνου.